Kids Night Out (Ages 6-12)
October 28 @ 7:00 pm

-

9:00 pm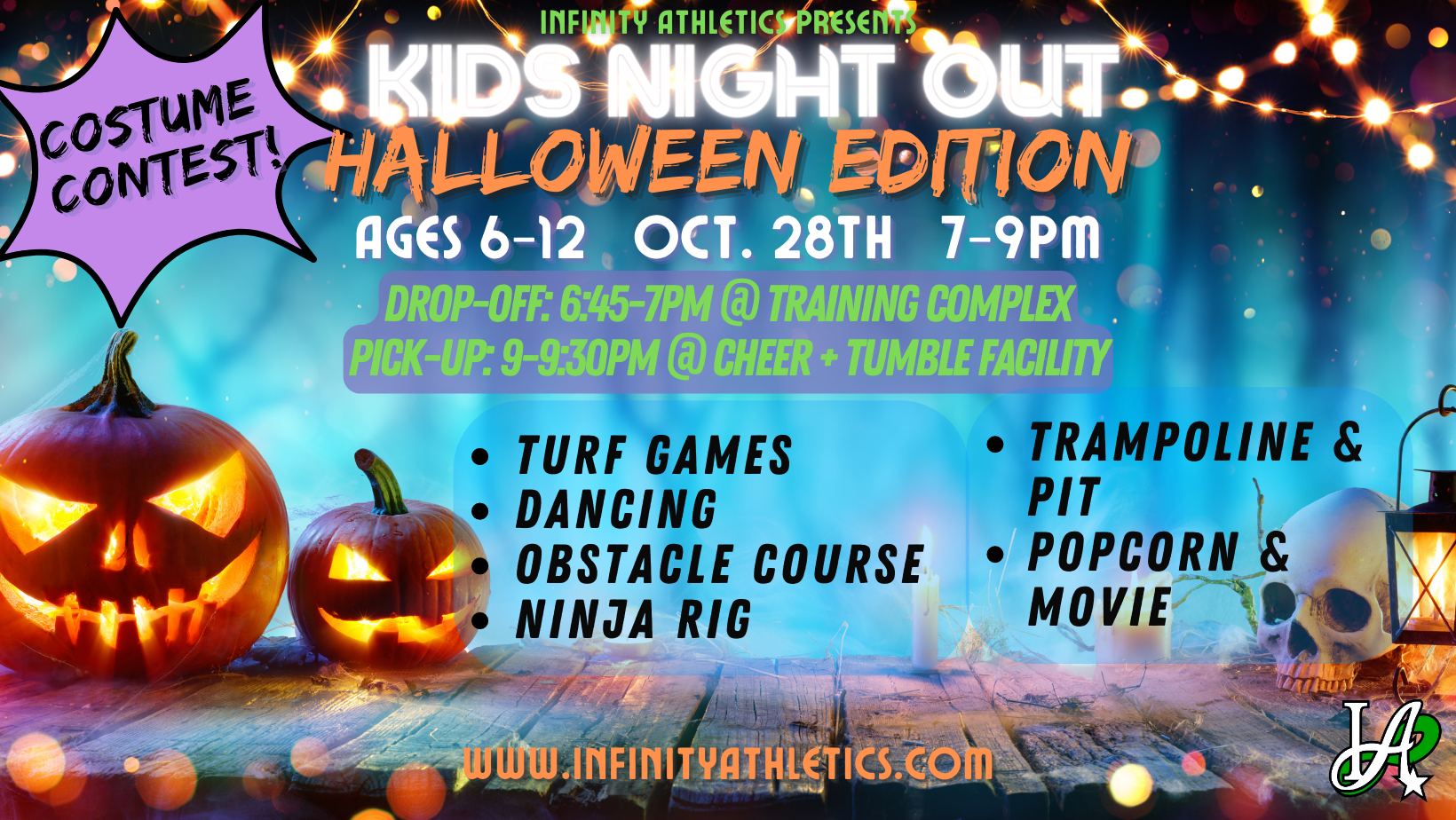 Come join us for a fun night of games, teamwork, play, popcorn and a movie and a Costume Contest as we let our participants play in BOTH Facilities!!! This event does follow a structured schedule while getting to play freely under coach supervision.
Arrive Between 6:45-7:00pm at the Training Complex located at 700 Walker Drive.
We will start the night with a Costume Contest! Your child will then get to play games with our coaches including the Director, Coach Tim Jared and will have the option to test their dance moves with our Dance Program Director, Mrs MacKenzie's Willoughby!!
At approximately 8:00pm, all participants and coaches will walk to the Cheer + Tumble Facility (through the back door, NOT along the road) and will finish the night in typical KNO fashion with the ninja rig, cargo nets, climbing rope, rock wall, trampoline, in-ground pit, inflatable obstacle course, and of course, we will end the evening with popcorn and a movie!
Pickup Time will be 9:00-9:30pm at the Cheer + Tumble Facility located at 675 Bright Hill Road.
**Events are $15 each for all participants enrolled by 7pm on Monday October 10th. The price will be $20 per participant after that date.
Not a Member? Click Here to Register
👇
https://app.jackrabbitclass.com/regv2.asp?id=518257
Current Members may conveniently enroll via your Parent Portal
👇  
https://app.jackrabbitclass.com/jr3.0/ParentPortal/Login?orgID=518257
OR
Sign up without creating an account HERE
https://app.jackrabbitclass.com/regevent.asp?xID=5618277&orgid=518257&PortalSession=
RSVP on Facebook